How to get to the Amalfi Coast?
For those coming from NORTH:
Direction: ROME - NAPLES - SALERNO (Autostrada del Sole E45/A1)
Exit: Castellammare di Stabia, Continue along the fast-flowing road to the Gragnano exit. Follow the directions for Pimonte - Agerola - From Agerola proceed for 4 km towards Amalfi. Follow the Zipline Italia road signs. We are in Furore at Via Aldo Moro 1
For those coming from SOUTH:
Direction: REGGIO CALABRIA - SALERNO - (Highway A3 /E45)
Exit: Salerno Nord, continue towards Vietri Sul Mare, at the crossroads, take the SS163 Amalfi state road, up to Amalfi.
Immediately after Amalfi, on the road to Positano, at the crossroads continue in direction Agerola. After about 3 km reach Conca dei Marini, continuing for another 3 km you will arrive in Furore in via Aldo Moro 1. Follow the road signs "Zipline Italia".
ROAD DIRECTIONS FOR ZIPLINE
Dear Customer,
to reach us at the Zipline of Furore, the route to take is as follows:
1. if it comes from Amalfi
just take the Amalfi-Agerola provincial road (by car or by bus) and reach Località Schiato. Just follow the directions on the sign and arrive in via Aldo Moro. After a few meters you can leave your car in the wider area of ​​the road and walk those few meters to reach the Zipline.
-see figure 1-
FIGURE 1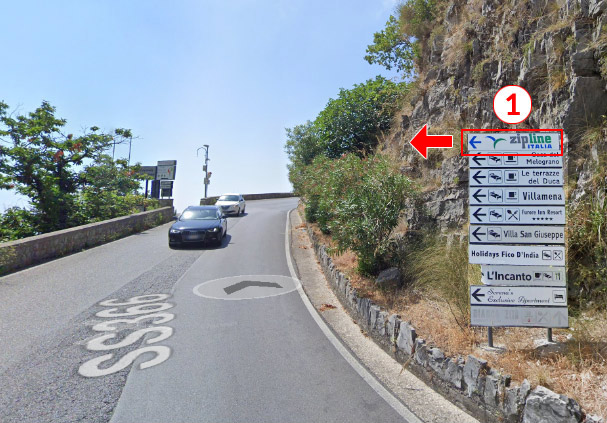 2. If you come from Sorrento you can choose:
a. to. take the coastal road, towards Positano. Take the direction Amalfi-SS163. Before reaching Amalfi, at the crossroads where you will find the signs for Agerola, take the Amalfi-Agerola provincial road and follow the road for about 5.5 kilometres. You will find the indications as in figure 1. Then follow the instructions already given in point 1.
-see figure 1-
b. to take the coastal road Sorrento-Castellamare. Exit at Gragnano and continue towards Gragnano, Pimonte, Agerola. Continue towards Amalfi up to Furore locality Schiato. Turn right onto via Aldo Moro. After a few meters you will find the Zipline Italia.
-see figure 2-
c. If coming from Naples:
take the Naples-Salerno highway and take the Castellamare exit, then take the highway to the Gragnano exit. Continue to: Pimonte, Agerola, up to Furore locality Schiatro. Turn right onto via Aldo Moro. After a few meters you can leave your car in the wider area of ​​the road and walk those few meters to reach the Zipline.
-see figure 2-
FIGURE 2